Introducing past photo exhibition 【Bird -Dromaius/ to Platinum】
2022.03.26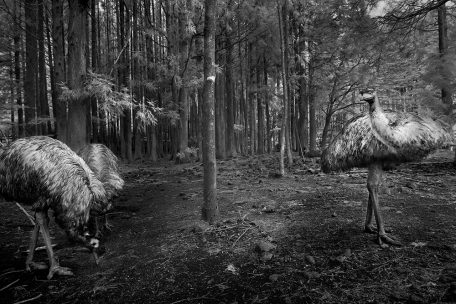 Bird –Dromaius / to Platinum
This photo exhibition was announced and recommended to be produced by using Platinum print by Professor Akira Naito an emeritus professor at Tokyo Polytechnic University, who is also a photographer. Platinum, Palladium Print has been around since I was a student. I longed for its high quality and beauty, but the materials were expensive and the threshold was high, so it was a very distant existence. 
I was very pleased to have the opportunity to show these and to be involved in the production myself. However, Platinum print cannot be produced without skill, and with alternative expertise.
I made it with the guidance of Mr. Yoshifumi Inomata of Atelier Chateigne who has advanced technology.
Usual platinum prints are characterized by a soft colored texture, however this print is reminiscent of this ancient bird. It features a deep black that is suitable for ancient birds. Black is expressed as if China ink was applied to Japanese paper, and well expressed the ancient birds' quiet and deep energy. In addition, the texture of this Tosa Washi paper further enhances the featheriness of the bird. I am convinced that each material and especially these birds were the best encounter to express the character of platinum print.
On the other hand, production is a delicate and extremely difficult task, and it was very difficult to handle delicate and handmade Tosa Washi in water, and there were difficulties and failures in production.
I would like to deeply appreciate Mr. Inomata and Ms. Ohno for guiding me so far, RICHO for exhibiting, and Prof. Naito for recommending me to this opportunity.
Reason for recommendation by Professor Akira Naito
It was Mr. Inomata of Atelier Chateigne who introduced Ms. Sakurai's work long ago. What I saw at that time was a very impressive bird photograph during the test print. After that, I was shown some photo books, all of which were powerful expressions. Ms. Sakurai is a female photographer who has been active since the 1990s, however, this time I would like to introduce a work by platinum print.Ms. Sakurai herself talks about the encounter between Ms. Sakurai and Platinum Print, however, I think that her encounter with Platinum Print and realized that this theme is approaching the final form.
The subject matter of the work transcends time and space and is very impressive in itself, however, it seems to be a further extension of the high-quality platinum print. We hope you will take a good look at it at the site.
鳥 -Dromaius / to Platinum
この写真展は、写真家でもある東京工芸大学名誉教授の内藤明先生から推薦していただき、プラチナプリントで制作し発表することになりました。プラチナパラジアムプリントは学生時代からその高品位や美しさに憧れていましたが、材料も高価で敷居が高く大変遠い存在でした。私は、この展示の機会をいただき、また自らその制作に携われたことを大変嬉しく思いました。しかし、プラチナプリントは、熟練した技術がなくして到底制作できるものではなく、Alternativeの専門的な知識と高度な技術をお持ちのアトリエシャテーニュの猪股良文氏にご指導頂きながら制作しました。
通常のプラチナプリントは、柔らかい風合いの色味が特徴ですが、このプリントは、この古代の鳥を彷彿させるに相応わしい深い黒が特徴です。和紙に墨汁を塗ったような黒が表現され静かで深くエネルギーある作品に仕上がりました。またこの土佐和紙の風合いが更に鳥の羽毛らしさを引き立たせています。この鳥たちは、プラチナプリントの為のイメージと言っていいほど、それぞれの素材が最適な出会いだった確信しております。一方で制作は緻密で難関極まる作業でもあり、繊細で手漉きの土佐和紙を水の中で取り扱うことは大変困難で制作には苦労も失敗もありました。ここまで導いてくださった猪股さん、大野さん、企画展示してくださったRICHO、推薦してくださった内藤先生に感謝申し上げます。
内藤明氏推薦理由
かなり前に櫻井さんの作品を紹介して頂いたのは、アトリエシャテーニュの猪股さんでした。そのとき拝見したのはテストプリント中の大変印象的な鳥の写真でした。その後、いくつか写真集を見せて頂きましたが、どれも力強い表現です。
櫻井さんは1990年代から活動されている女性の写真家ですが、今回ご紹介するのはプラチナプリントによる作品です。櫻井さんとプラチナプリントとの出会いは、櫻井さんご自身に語って頂きますが、プラチナプリントと遭遇され、今回のテーマが完成形に近づくことを実感されたのだと思います。
作品の主題は時空を超えそれ自体で大変印象的ですが、それが高品位のプラチナプリントによってさらに拡張された表現になっていると思われます。どうぞ、会場で存分にご覧いただければと思います。